Posts for: April, 2014
By C. Scott Davenport, D.D.S., PA
April 24, 2014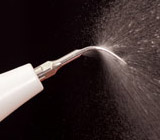 While you may most associate professional dental cleanings with that "squeaky" clean feeling you have afterward, there is a much higher goal. What is also referred to as "non-surgical periodontal therapy," these cleanings seek to remove bacterial plaque and tartar (hard deposits) not only from the visible portions of the tooth but also the root surfaces (scaling), so as to reduce the risk and occurrence of periodontal gum disease.
For generations, this was primarily achieved by dental hygienists using hand-held instruments specially designed to manually remove plaque from tooth surfaces. Since the 1950s, though, a new technology known as ultrasonic or power scaling has become more prevalent in use. Initially only used in the outer most portions of the gum tissue (the supra-gingival area) power scaling is increasingly employed to clean the sub-gingival area, much closer to the tooth roots. As this technology has developed, it's been shown to be just as effective, if not superior in some cases, to manual scaling for removing plaque and tartar.
Ultrasonic or power scalers work by emitting high vibration energy that crushes and removes plaque and calculus (tartar). The resulting shockwaves also tend to disrupt bacterial cell function. The hygienist uses water to flush away the dislodged calculus. They have a number of advantages over manual scaling: they're quite effective on deep gum pockets, especially when specially designed tips are used; they require less time than manual scaling; and when used correctly power scalers are gentler to tooth structures.
However, they do have a few drawbacks. Because they produce an aerosol effect, power scalers can project contaminants from the patient's mouth into the atmosphere, requiring special protective equipment for the hygienist. They're not recommended for patients with hypersensitive teeth, especially regarding temperature change, or for teeth with areas of de-mineralization (the loss of mineral content in the enamel). Care should be taken when they're used with implants or porcelain or composite crowns — specially designed tips are necessary to avoid scratching the restoration. They may also have an effect on cardiac pacemakers.
In the end, the best approach is a combination of both power and manual scaling techniques. Depending on your individual needs, ultrasonic scaling can do an effective job in removing plaque and tartar and help you avoid gum disease.
If you would like more information on ultrasonic cleaning techniques, please contact us or schedule an appointment for a consultation. You can also learn more about this topic by reading the Dear Doctor magazine article "Dental Cleanings Using Ultrasonic Scalers."
By C. Scott Davenport, D.D.S., PA
April 09, 2014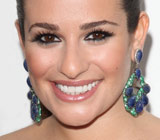 Not long ago, Glee star Lea Michele had all of her wisdom teeth removed. This is a very common procedure that people in their twenties, like Michele, often undergo to prevent serious dental problems down the road. The actress found that the procedure really was actually not very difficult to tolerate.
"Feeling all better from my surgery!" she tweeted to fans a few days later. "Back to work tomorrow."
Why do wisdom teeth so often cause problems? For one thing, they come in years later than the other 28 permanent teeth — usually between the ages of 17 and 25. By that time, there is often no room in the jaw to accommodate them. As man has evolved, the jaws have actually become smaller in size — often creating a lack of space for the wisdom teeth to erupt into proper position. If wisdom teeth become blocked (impacted) by other molars that are already there, infection and damage to neighboring teeth may result.
Sometimes the wisdom teeth themselves cause the problem by growing in at an odd angle. They push against other teeth, often compromising the adjacent tooth's supporting bone. While you would think pain would occur if any of these problems were present, that does not always alert us to a wisdom-tooth problem. It's usually diagnosed with the help of x-rays.
Wisdom tooth extraction is often performed in the dental office using a local anesthetic (numbing shot) to keep you from experiencing any pain, along with conscious sedation to help you relax. The type of anesthesia that's best for you will be determined before the procedure.
After we gently remove the tooth or teeth, you may need to have the site sutured (stitched) to promote healing. You will rest for a short time before going home, and may need to have someone drive you, depending on what type of anesthesia you were given.
Once you get home, you should apply an ice pack on the outside of your cheek for about five minutes on, five minutes off for as many hours as possible to help reduce any postoperative swelling on the first day. Starting on the second day, the warm moist heat of a washcloth placed on the cheek and hot salt water rinses will make you more comfortable. You may want to eat soft foods and brush your teeth very carefully during the recovery period, which lasts only a few days as Lea Michele discovered. Before you know it, you'll be "feeling all better!"
If you have any questions about wisdom teeth, please contact us or schedule an appointment for a consultation. You can learn more by reading the Dear Doctor magazine article "Wisdom Teeth."