Posts for: March, 2014
By C. Scott Davenport, D.D.S., PA
March 25, 2014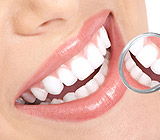 The "Hollywood Smile" — dazzlingly white — is associated in our society with youth, health and vitality. Achieving that smile through either professional or home whitening applications has become very popular.
Teeth become discolored or dull for a number of reasons. It can be something intrinsic with the teeth — changes in enamel or dental structure during development, inherited disorders, heavy exposure to fluoride or tetracycline, or changes in mineral structure or wear due to aging. It can also be extrinsic, resulting from environmental or lifestyle causes. Eating foods with tannins (red wine, coffee or tea) or carotene pigments found in plant foods like oranges or carrots, or using tobacco may all cause staining.
Most modern applications involve an oxidizing chemical (usually hydrogen peroxide) that bleaches the teeth. Professional applications in a dentist's office use high concentrations of hydrogen peroxide (usually 35 to 45%) applied directly to the teeth with control measures to protect the lips and gums. This type of application can lighten the color of teeth up to ten shades.
There are a number of home options too: whitening strips, "Paint on" or "Brush on" whitening, and even whitening gum. We can also provide you with a "Take home" kit that resembles the professional application but is generally less expensive. Although all these home applications are generally safe and effective, they typically take longer for results (several repeated days as opposed to about one hour for an office application), and not always to the same level of lightness as the professional.
Just about anyone can be a candidate for a whitening application. However, if you have thinner than normal dentin and more porous enamel, or suffer from gum recession or enamel loss, then whitening may increase tooth sensitivity. And, whitening is not a permanent solution: the brightness will fade over time, usually within a year. You can slow the fading by avoiding foods and habits that contribute to staining. It's also possible to touch up the initial whitening once or twice a year to extend the life of your new, bright smile.
If you would like more information on teeth whitening, please contact us or schedule an appointment for a consultation. You can also learn more about this topic by reading the Dear Doctor magazine article "Teeth Whitening."
By C. Scott Davenport, D.D.S., PA
March 10, 2014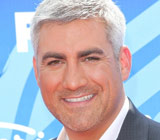 Like many who have risen to the top tier in show business, singer Taylor Hicks found that he needed a few things (besides talent, of course) to really succeed: a willingness to seek out opportunities and work hard; a unique and energetic stage presence; and a bright, appealing smile.
"Everyone wants to have a great smile," Hicks recently told Dear Doctor magazine. "In my business, it's one of the most important things. A lot of what I do is smiling and having fun, being in front of the camera and taking pictures."
To help him keep his smile sparkling, Hicks opts for in-office whitening treatments from his dentist. These treatments are a safe, quick and effective way to lighten teeth by 3 to 8 shades in a single one-hour visit. Best of all, you don't have to be an American Idol winner or a Las Vegas headliner to take advantage of them — in fact, we offer them right here in our own office.
Why choose in-office treatments instead of take-home trays (or over-the-counter products)? While each system can be effective at lightening teeth to some degree, the in-office method offers several distinct advantages. For one, it's the fastest way to get your teeth as bright as they can be; the same lightening that can be achieved in one office visit could take a week when done at home, using custom-made trays and dentist-supplied bleaching solutions — and several weeks with over-the-counter products! So if your time is limited, in-office treatment is the way to go.
Plus, in-office treatments are performed under our direct supervision. That means we can safely use the most powerful whitening gels, and achieve the maximum control over the result. This can be important when you have crowns or replacement teeth such as implants, which Hicks has. Artificial crowns don't whiten like natural teeth, so it's important to get just the right degree of lightening to produce an evenly bright smile.
The bottom line, of course, is the result: a dazzling white smile. "In entertainment, a big, pearly white smile makes a difference," Hicks said. But you don't have to be an entertainer to enjoy the benefits of a brilliant smile — we do it for plenty of "regular folks" too.
So if your smile could use a little brightening, why not call us and schedule an appointment for whitening treatment? You can learn more in the Dear Doctor magazine articles "Teeth Whitening" and "Important Teeth Whitening Questions Answered."