Posts for: September, 2012
By C. Scott Davenport, D.D.S., PA
September 26, 2012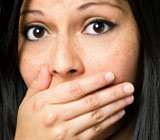 In today's fast-paced society, nearly everyone is looking for reliable solutions to resolve problems almost instantly. Unfortunately, in many situations, bad breath cannot be cured that quickly. This is why we want to provide you with the following rules of thumb for treating your bad breath.
Use a soft-bristled brush and a proper technique to clean your teeth at least twice a day, in the morning when you wake and before you go to bed.
Floss your teeth at least once daily to remove the bacterial plaque and food particles between your teeth, as these are two known causes of bad breath and tooth decay.
Clean your tongue, as it can often be the main culprit with too many odor-producing bacteria living on its surface. To clean your tongue, use a tongue scraper obtainable from a local drug or discount store, or brush your tongue with your toothbrush. Remember, a healthy tongue should be pink in color and not have a yellowish or brownish coating.
Chew a sugar-free gum that contains xylitol, a natural, sugar-free sweetener that actually has been shown to help prevent caries (cavities) while improving your breath.
Change your eating and drinking habits. Drinking plenty of tap water will not only keep your mouth hydrated (a dry mouth is another cause of bad breath), but it also can help prevent caries if you live in an area with fluoridated water. And by adding plenty of crunchy fruits and veggies such as carrots, celery and apples, you stimulate the production of saliva; thus keeping your mouth moist and rinsed out.
And last but not least, you can contact us today to schedule a consultation for an examination, cleaning and treatment plan. Or, you can learn more when you read the Dear Doctor article, "Bad Breath — More Than Just Embarrassing."
By C. Scott Davenport, D.D.S., PA
September 10, 2012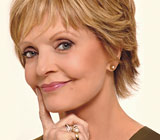 Florence Henderson, star of one of television's most beloved situation comedies, is still actively engaged in a variety of projects at 75-plus years of age. Her bright smile was part of her character as Carol Brady in The Brady Bunch, a popular sitcom that played for five seasons from 1969 to 1974. Though the show was discontinued, syndicated episodes continue to play in the U.S. and 122 other countries.
"I played Carol as the mother I always wished I had," she told Dear Doctor magazine. Her portrayal of mother and wife in a blended family with six children won her the Smithsonian Institution's TV Land Pop Culture Icon Award, which is on display in the National Museum of American History in Washington, DC.
After her successes on Broadway and in television, she was selected for numerous product endorsements, and The Wall Street Journal ranked her #5 in their top ten television endorsers based on viewer satisfaction. One of the products she endorsed was Polident, a brand of denture cleaners and adhesives. However, Henderson has revealed that she has her own natural teeth and does not wear dentures. Her advice to others who want to keep their natural teeth is to pay attention to prevention. "I think the most important thing one can do as with any health issue is prevention," she said. "Flossing, brushing, and regular dental checkups are vitally important if you want to keep your natural teeth."
When she was 22, she says, she had four impacted wisdom teeth removed at the same time. This experience made her aware of the importance of dental care, and since then she has had a checkup every six months. Wherever she travels, she says that she always has mouthwash, dental floss, toothpaste, and a toothbrush on the set.
Contact us today to schedule an appointment to discuss your questions about tooth care. You can learn more about Florence Henderson by reading the Dear Doctor magazine interview "Florence Henderson, America's Favorite TV Mom Has Many Reasons to Smile."