Posts for tag: x-rays
By C. Scott Davenport, D.D.S., PA
October 04, 2015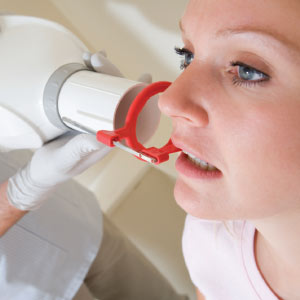 Radiographic (x-ray) images are an indispensible diagnostic tool in dentistry. One of the most routine and useful types of x-rays dentists take is the so-called bitewing. Here are some things you may want to know about this common diagnostic procedure.
What are bitewing x-rays?
Bitewings reveal the presence and extent of decay in the back teeth, specifically in areas where adjacent teeth touch each other. Unlike other areas of the teeth, these contacting surfaces between adjacent teeth can't be examined visually. Bitewings can also show areas of bone loss around teeth — a sign of periodontal disease; however, they are not taken for that purpose because bitewings will not show the complete root surface that is surrounded by bone.
Why are they called that?
The name "bitewing" refers to how the film — or sensor, in the case of a digital x-ray — is positioned in the mouth: The patient bites down on a little tab or wing that holds the apparatus in place.
How often do I need them?
This is determined on a case-by-case basis, with the goal of not exposing you to any more radiation than necessary — even the minimal amount found in a series of bitewing x-rays. Your individual susceptibility to caries (tooth decay) and personal dental history will play a major role in determining how frequently you need radiographic examination — and, for that matter, how often you need to come in for routine cleanings and exams.
Are they safe?
The safety of bitewing x-rays is best illustrated with a comparison to the regular daily radiation exposure we get every day from environmental sources, which is about 0.01 millisieverts — the unit of measure we use for radiation. A series of 4 bitewing x-rays exposes you to 0.004 millisieverts of radiation — less than half of the daily exposure. Undetected tooth decay, which can spread quickly through the softer inner layers of teeth, is considered much more dangerous!
If a bitewing x-ray shows that there is tooth decay, what happens next?
If the cavity is very small, we may be able to treat it during the same appointment. If not, we will make a separate appointment to make sure it is taken care of promptly. The sooner tooth decay is treated, the better!
What if I have more questions?
Contact our office, or schedule an appointment for a consultation.
By C. Scott Davenport, D.D.S., PA
November 26, 2012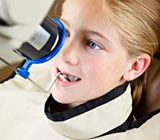 Yes, dental x-rays are a safe and vital tool we use for measuring and monitoring your oral health. We feel it is imperative to ensure that our patients have the facts — especially when it comes to their oral healthcare. This is why we want to respond to this important question about the safety of dental x-rays.
We want you to know what they are, how they are used, what makes them a safe and effective tool, and why they are so important to dentistry and your health. X-rays are a form of electromagnetic radiation, in fact, just like natural daylight, except they have a much shorter wavelength. And because they are a form of ionizing radiation, they can easily penetrate bodily tissues without causing any harm when used properly. The reasons we use them are obvious; they help us literally see what is unseen. For example, they enable us to see bone structure and roots of teeth among other things, and are commonly used for diagnosing tooth decay. Furthermore, today's x-ray machines and other image capturing techniques are so sophisticated and sensitive that the amount of radiation required for diagnosis is almost nothing when compared to what you get from the background radiation present in everyday living. In fact, the average single digital periapical ("peri" – around; "apical" – root end of a tooth) film is equal to 1/10 the amount of everyday natural environmental exposure. These facts make it clear that dental x-rays are completely safe and, thus, are nothing you need to be concerned about.
Learn more about this topic by reading the Dear Doctor magazine article "X-ray Frequency And Safety." If you need to schedule an appointment, contact us today.