Posts for: February, 2015
By C. Scott Davenport, D.D.S., PA
February 27, 2015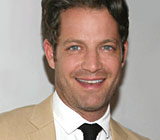 As a successful author, interior design guru (with 127 makeovers in eight years on The Oprah Winfrey Show), and host of his own television program, The Nate Berkus Show, Nate Berkus understands the important role a beautiful smile plays in one's life and career. In a recent interview with Dear Doctor magazine, Nate discussed his oral health history. Berkus credits his all natural smile — no cosmetic dentistry here — to the treatments he received as a child from his dentist. "I'm grateful for having been given fluoride treatments and sealants as a child." He then added that, "healthy habits should start at a young age."
Dental sealants are important because they help protect developing young teeth until the enamel has matured. Without dental sealants, the newly erupted immature enamel of teeth is more permeable, meaning that the acids produced by bacteria in the mouth can damage these teeth more easily. This makes the teeth less resistant and thus more susceptible to tooth decay.
Regardless of how much your children brush their teeth, the reality is that toothbrush bristles cannot reach down to clean out the crevices found in the deep grooves ("pits and fissures") of teeth. And if not removed, the bacteria found in these grooves produce decay-causing acids as a byproduct of metabolizing sugar. However, when sealants are used in combination with fluoride, good hygiene and nutrition (including lower sugar consumption), the odds of having tooth decay is dramatically reduced.
We refer to dental sealants as "pit and fissure" sealants because they protect the grooves found in the top of back teeth and the back of front teeth. Sealants also may reduce the need for subsequent treatments as your child grows older — just as it did for Nate Berkus. For these reasons, sealants are definitely something that all parents and caregivers should consider for their young children.
To learn more about dental sealants, contact us today to schedule an appointment so that we can conduct a thorough examination, discuss any questions you have as well as what treatment options will be best for you or your child. Or to learn more about sealants now, you can continue reading the Dear Doctor magazine article "Sealants for Children." And to read the entire interview with Nate Berkus, please see the Dear Doctor magazine article "Nate Berkus."
By C. Scott Davenport, D.D.S., PA
February 12, 2015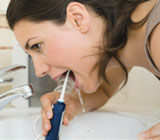 The main strategy in fighting dental disease is to try to prevent it in the first place. The success of this strategy depends largely on effective oral hygiene with three essential elements: daily brushing, daily flossing, and semi-annual checkups with professional cleaning.
Many people have little trouble incorporating brushing into their daily routine; flossing, though, is a different matter for some. They may feel it's too time-consuming or too hard to perform. Patients with orthodontic appliances especially may encounter difficulty navigating the floss around the appliance hardware.
Flossing, though, is extremely important for removing bacterial plaque, the primary aim of oral hygiene. This thin film of food remnant that builds up and sticks to the teeth is the breeding ground for bacteria that cause both tooth decay and periodontal (gum) disease. It's important that as much plaque as possible is removed from the teeth and gum surfaces every day. While brushing removes plaque from the open surfaces of the teeth, flossing removes plaque clinging between teeth and around the gums that can't be accessed with a toothbrush.
If traditional flossing is too difficult, there's a viable alternative using an oral irrigator. Also known as a water flosser, an oral irrigator directs a stream of pressurized, pulsating water inside the mouth to blast away plaque in these hard to reach places. The hand applicator comes with a variety of tips that can be used for a number of dental situations, such as cleaning around braces or implants. In home use since the early 1960s, the latest versions of oral irrigators have proven to be very effective, especially for orthodontic patients — research shows an oral irrigator used in conjunction with brushing can remove up to five times more plaque than just brushing alone.
That being said, traditional flossing is also effective at plaque removal when performed properly. Sometimes, resistance to flossing can be remedied with a little training during dental checkups. We can work with you on techniques to improve your flossing activity, as well as train you to use an oral irrigator.
Whichever method you choose, it's important for you to incorporate flossing (or irrigation) into your daily routine. Removing plaque, especially in those hard to reach places, is essential for reducing your risk of developing destructive dental disease.
If you would like more information on flossing or oral irrigation, please contact us or schedule an appointment for a consultation. You can also learn more about this topic by reading the Dear Doctor magazine article "Cleaning Between Your Teeth."