Posts for: November, 2013
By C. Scott Davenport, D.D.S., PA
November 27, 2013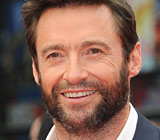 Australian heartthrob Hugh Jackman has won international recognition for his work on stage, screen and television, including his long-running portrayal of Wolverine in the X-Men film series, and his Academy-Award-nominated starring role in Les Miserables. Oh, and did we mention he was named the "sexiest man alive" by People magazine in 2008? So when Jackman once said "I have shocking teeth"… what did he mean?
"[My dentist] looked at my teeth and went, 'Oh, my God, you've got gray teeth,'" the actor stated. The proposed cure: tooth whitening. But what if the action hero's teeth were brightened too much — would his look still convey his trademark rugged charm? To see how that issue was resolved, let's look a little closer at various methods of tooth whitening.
All Whitening Isn't the Same
Everyone has seen the kind of over-the-counter tooth whitening strips advertised in magazines and sold in drug stores. Most dentists agree that, given enough time, they can work in many cases. But there may be problems, too.
One is that unless you know what's actually causing the darkening, you can't be sure if there is an underlying issue that needs treatment — a root-canal problem, for example. Bleaching a diseased tooth is like painting over a rusty car: it camouflages the problem, but doesn't fix it. That's one reason why, before any whitening treatment is attempted, it's important to have a complete dental examination, with x-rays.
Another is that without professional supervision, it's more difficult to control the degree of whitening you will end up with. For safety reasons, over-the-counter whitening products have the least concentrated bleaching agent, and will probably require weeks of use to produce noticeable results. The next step up — a custom-designed, at-home bleaching kit from our office — will likely produce results twice as fast.
The Professional Advantage
At-home bleaching done under our supervision uses stronger whitening agents with a flexible plastic tray that's custom-made to fit your teeth. It's a cost-effective way to achieve several shades of whitening in a relatively short time. Plus, with the advantage of our experience and guidance, you can get excellent results safely and efficiently.
If you want the fastest and most controllable whitening, however, in-office whitening treatments are the best way to go. According to one study, using the most concentrated whiteners in a safe clinical setting produced a six-shade improvement in just three office visits! This would have required a week or more of at-home bleaching, or upwards of 16 daily applications of the over-the-counter whitening products!
In-office whitening also offers the greatest degree of control over the outcome. That's why it was the method Hugh Jackman chose for his treatments. By adjusting the concentration of the bleaching solution and the treatment time, Jackman's dentist made sure his teeth were pleasingly light — but still looked completely natural. And in our office, we can do the same for you.
So whether you're looking for a dazzlingly bright smile or a more subtle enhancement, the best way to start is to call our office for a consultation. For more information, see the Dear Doctor magazine articles "Important Teeth Whitening Questions Answered" and "Teeth Whitening."
By C. Scott Davenport, D.D.S., PA
November 12, 2013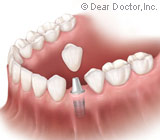 Maybe you've seen some marketing material for dental implants featuring smiling, silver-haired seniors. Perhaps this made you think that implants are a tooth replacement system that's primarily intended for older adults. If so, let's change that impression right now: Dental implants are suitable for almost all adults, not just older folks!
Today's best option for tooth replacement, implants can help most people who suffer from the problem of missing or failing permanent teeth. (In children, however, where the jaw is still growing, implants aren't generally used.) Of course, it is our goal as dentists to preserve as many of the natural teeth as possible. But when that isn't possible, implants offer the best option for tooth replacement.
The Implant System
What makes the dental implant system such a great option for replacing lost teeth? Let's start with the implant itself. This small, screw-shaped device is made of titanium metal, which has a unique property: When placed in the jaw, in a minor surgical procedure, it becomes fused with the living bone tissue. This provides a solid anchor for the visible part of the replacement tooth, the crown, which is attached to the implant by a connecting piece called an abutment.
Because the implant is securely fixed in the jaw, it provides the replacement tooth with a firm foundation that won't come loose — and it doesn't depend on other teeth for support, like bridges do. It also stops the process of bone loss, which occurs in the area of the jaw where a missing tooth was formerly located. The erosion of bone, which begins as soon as a tooth is lost, can create the appearance of premature aging, and may eventually lead to further dental problems.
Why You May Need Implants
Older folks aren't the only ones who experience tooth loss; younger people suffer from this problem too. Accidents and injuries are one cause, whether they are sports-related, or result from habits like biting pencils or grinding teeth. Lifestyle may be another factor. Poor nutrition, excessive consumption of sugary substances (including certain "sports" and "energy" drinks), and the lack of proper dental hygiene and professional care can allow moderate problems to get much worse.
A major cause of tooth loss is disease, such as tooth decay or periodontal disease. These can be a problem at any age. But a few conditions may cause serious dental problems in younger people — bulimia, for example. When stomach acids enter the mouth, they can rapidly erode the tooth enamel. Gastroesophageal reflux disease (GERD) can create similar problems.
When Should You Get Implants?
Preserving your natural teeth whenever possible is a major goal of modern dentistry. But when teeth can't be saved, it's time to consider implants. While they are initially more expensive than more traditional tooth replacement methods (like bridges or removable dentures), they can last for the rest of your life with only routine care. That's something no other method can claim, and it makes them a great value, especially for younger people. Plus, they feel completely natural and look great.
So, if you're confronting the problem of tooth loss, call our office for a consultation about dental implants. You can learn more in Dear Doctor magazine's in-depth guide, "Dental Implants."