Posts for: December, 2012
By C. Scott Davenport, D.D.S., PA
December 29, 2012
Xylitol is a kind of sugar.
True or False
Xylitol is made from

Bark of birch trees
Coconut shells
Cottonseed hulls
All of the above

Xylitol is a natural "sugar alcohol" similar to other so-called sugar alcohols such as mannitol and sorbitol.
True or False
Xylitol is broken down by decay-causing bacteria to produce acid.
True or False
Decay-causing bacteria are transmitted from a parent to a child through oral contact such as a simple lip-to-lip goodnight kiss.
True or False
Researchers have found no difference in prevention of tooth decay in gum made from xylitol compared to gums containing sorbitol/xylitol and sucrose.
True or False
Other xylitol products such as mints, candy and cookies also seem to decrease the incidence of tooth decay.
True or False
Xylitol products increase salivary flow and allow saliva to neutralize acids in your mouth.
True or False
The only side effect of too much xylitol ingestion is a possible mild laxative effect.
True or False
The target dose of xylitol is one to two teaspoons spread throughout the day.
True or False
Answers:
True. Xylitol is a kind of sugar that does not contribute to tooth decay.
All of the above. It is also found naturally in some fruits and vegetables.
True. The others, mannitol and sorbitol, are used as sugarless sweeteners.
False. Unlike sucrose (table sugar), xylitol is NOT broken down by bacteria to produce acid. Xylitol also stops saliva from becoming acidic so your mouth becomes an unfriendly environment to acid-producing bacteria.
True. However, xylitol inhibits growth and attachment of the bacteria to your teeth, so it also inhibits transmission to your children.
False. Systematic use of xylitol chewing gum significantly reduces the relative risk of caries (tooth decay) when compared to chewing gums containing sorbitol/xylitol and sucrose. Xylitol gum also appears to halt the development of tiny cavities when compared to other types of chewing gum.
True. Use of these products seems to stop the progression of active decay.
True. Xylitol and your saliva combine to re-mineralize (harden) your teeth after an acid attack.
True.
True. This means two pieces of xylitol gum or two pieces of xylitol candy or mints should be consumed for five minutes four times a day after eating meals or snacks.
Contact us today to schedule an appointment to discuss your questions about xylitol and other methods of preventing tooth decay. You can also learn more by reading the Dear Doctor magazine article "Xylitol in Chewing Gum."
By C. Scott Davenport, D.D.S., PA
December 11, 2012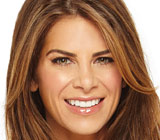 As America's toughest trainer on the hit television program The Biggest Loser, Jillian Michaels helped people learn that they hold the power to change. And if anyone knows about the power of changing oneself, it is Jillian Michaels. In her recent interview with Dear Doctor magazine, Jillian discusses her childhood, the trauma of being overweight as a teenager (5' 2" and 175 pounds), and the day her life forever changed when she started martial arts training at a gym. "I started training when I was 17 and always loved it but never thought it would end up being my career," she said.
Jillian also reveals that when she was a child, she broke her two front teeth and had them repaired with crowns. She added, "Now, I generally wear a mouthguard if I am doing anything where my teeth have any chance of being knocked out."
When it comes to replacing teeth that are broken or damaged from trauma, or teeth that are damaged because of dental decay, grinding habits, or acid erosion, crowns may be your best option. And because the tooth enamel is damaged, a bit more of it must be removed before we can place a crown. Generally speaking, we must remove about 2 millimeters of tooth structure to place a crown. Once the crown is placed, the tooth will always require a crown, as this is an irreversible procedure. However, the good news is that a crown not only mimics the look and feel of a natural tooth, but it is also the optimal long-term solution. On average, a crown last between 5 and 15 years and requires no special maintenance. In fact, you should treat your crown as you do your natural teeth, with a daily cleaning regimen of brushing and flossing and routine dental examinations and cleanings.
To learn more about crowns or other cosmetic procedures, contact us today to schedule an appointment so that we can conduct a thorough examination, discuss any questions you have as well as what treatment options will be best for you. Or to learn more about crowns now, you can continue reading the Dear Doctor magazine article "Porcelain Crowns & Veneers." And to read the entire interview with Jillian Michaels, please see the article "Jillian Michaels."